We often get asked, "what can I do with my YOUNG children?"  Yes, there's snorkeling, surf lessons, luaus.  But what about the kids that are younger and aren't at the ability level or attention span needed for fun stuff like that?  Here are a few things we like to do with our kids in Maui, Hawaii.
Maui Zipline with Kids
Though kids younger than 5 won't be zipping, they can still have fun.  Many of the lines at the Maui Tropical Plantation are visible from the duck pond, so send your bigger kids zipping while your littler ones enjoy watching and cheering them on with an adult by the pond.  Maui Zipline Company specializes in taking all ages through and over this large, tropical property.  Call 808.633.2464 to book your tickets.  Learn more about the duck pond below.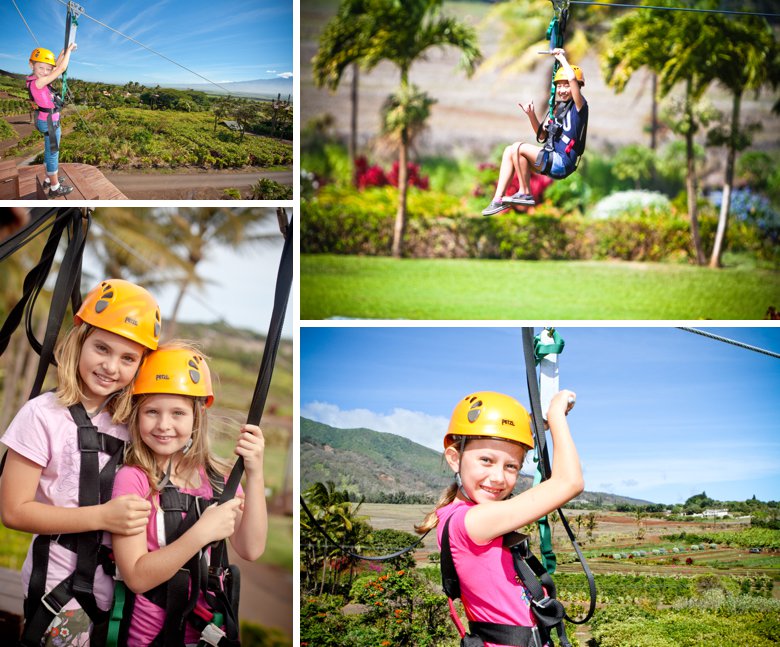 Learn more about the many Maui zipline courses around the island.
Maui Trampoline Park
We visit Ultimate Air Maui at least a few times every month. The kids LOVE going. When offered the choice between the beach and the trampoline park, bouncing wins more than often. We love it too because it's not just for kids. They have basketball hoops, jousting, foam pits, tables for parties, snack bar, and massage chairs. It's perfect: We jump with the kids for awhile, then go relax while the expend every last ounce of energy.
Solve a Mystery in an Escape Room
If your kids like board games and Sherlock Holmes-esque mysteries, they'll love the new escape rooms at Mystery Maui, based conveniently in central Maui in Wailuku Town. While kids under 13 are required to be accompanied by at least one adult, every member of the family is welcome to participate in this 60 minute timed mystery challenge. With 3 initial clues to help you solve the mystery of the missing chef at The Ramen Shop or the house concert with pop sensation Stella Superstar, a game marshal will be there to assist you in decoding a number of fun, entertaining clues that will ultimately lead to you escaping the room – well done! – or not, in which case you'll have plenty of fun anyway. Because it only takes an hour, this is a great activity for rainy days or when you need a little break from the sun and sand.
Maui Alpaca
If you have animal-loving kids in tow, head Upcountry to Maui Alpaca. This eight-acre farm hosts daily tours where guests can meet the farm's silly posse of female alpacas and angora bunnies. Both animals are friendly and love having visitors— mainly because they know they get treats anytime visitors show up. Nevertheless, kids will love feeding the alpacas. Plus, cuddling with the fuzzy angora bunnies might just be the highlight of your kiddos' trip. After all, most kids who visit Maui are hyped to see turtles on the beach or whales splashing in the ocean— few expect to meet alpacas.
Visit the Pools of 'Ohe'o
While waterfalls are a dime a dozen on Maui, it's almost always best to let an experienced local lead the way when it comes to choosing a safe, all-natural swimming spot. Thankfully, Haleakala EcoTours makes it easy with their guided Road to Hana Tour, which includes a relaxing, scenic drive in a spacious 11-passenger tour van along Maui's most famous winding road trip. With a check-in time of 8am, you'll be treated to multiple stops at some unforgettable Maui areas, such as Keanae Peninsula, Kahanu National Tropical Garden, Wai'anapanapa State Park, Hana Town, and Seven Sacred Pools, also known as the Pools of 'Ohe'o. Best of all, this spot is highly regulated for swimming, meaning you'll be forewarned of any possible danger of flash flooding – or otherwise – long before you even arrive. Have fun, and don't forget to take some photos of your journey!
Beach Time!
Duh.  Taking your kids to the beach is a no-brainer.  Choose beaches with very little swell activity, preferably with lifeguards. I can't tell you how many times I've seen both adults and kids rescued at Big Beach (Makena Beach.)  It's a deceptive spot.  It looks calm, but the shorebreak snaps necks regularly.  Choose a beach with some protective reef or zero swell activity.  get there early, find a shady spot, and avoid peak sun burn times.
Maui Events
There's often something going on for kids on Maui, especially in the summer time.  Festivals, outdoor movie nights at the MACC, Craft Fairs, and many more things happen worth bringing the groms.  Keep an eye on Maui Events.  Below are some photos from the recent Maui Agricultural Festival.
Duck Pond
The Maui Tropical Plantation has more than ziplines and an award winning restaurant. Kids LOVE the duck pond.  It's peaceful, beautiful, and has so much for them to see.  Turtles, ducks, chickens, fish, and more live in this pond.  They sell duck food at the gift shop in front.  Free admission.  Incredible views of the Waikapu Valley too.  Grab some lunch at the Mill House when you're done.
Visit Hana with your Kids
This one can be great with kids, depending on your preparation.  We suggest staying the night if going to Hana with children.  Breaking up the long drive is worth it.  Plus, you get more time in Hana Town, which has more to offer than the guidebooks suggest.  Here are some kids enjoying the Hotel Hana-Maui and the surrounding areas.  They have units perfect for families.
Resort Pool Time
Many of the resorts have kid-friendly pools.  These photos are from the Sheraton in Ka'anapali, west Maui.  Great pools, slides, and fun.  The Andaz has a great kid area, and of course, the Grand Wailea has the mother of all kid pools on Maui.
Maui Submarine with Kids
The kids LOVE going on the Maui submarine.  We go at least once a year.  It's the ultimate adventure where they can see deep sea creatures, as well as a sunken ship, without getting wet.  Last time we saw manta rays, 2 sharks, tons of fish, and even SpongeBob sitting on the side of the sunken ship.  It's educational too.
Maui Ocean Center
We have annual passes for a reason.  If it's raining, too hot out, or we just need to kill some time and get the kids out of the house, the Maui Ocean Center is PERFECT!  There are interactive exhibits, outdoor pools where they can touch sea creatures, life-sized replicas of whales, a great restaurant, views of Maalaea Harbor, and a massive shark tank with a glass tunnel.  The kids lose their minds.
Maui Helicopter Tours
We didn't even know we could do helicopter tours for little kids until we visited.  No problem.  Our older child was in awe.  Our baby was cautious.  Both seemed to get something out of it.  We had a blast, saw a bunch of Maui, and they had something to tell their school friends the next week.
Tide Pools!
You can pretty much find tide pools in most regions of Maui.  All kinds of creatures inhabit these areas.  Make sure to choose an area that doesn't have a lot of wave activity.  Make sure your children leave any creatures you find where they are.
I hope this helps you when visiting Maui with young children.  There's a lot more to do than this, so we'll continue to update this post. Check back in soon, and leave a comment with anything you think we should add.  Mahalo!