This beautiful Maui elopement was captured on the gorgeous Ironwoods Beach in Kapalua, Hawaii. The stunning couple chose the perfect evening for a sunset wedding in Hawaii and were blessed with spectacular lighting. The ceremony was exquisitely planned by Simple Maui Wedding and the gorgeous photography was taken by the team at Karma Hill Photography.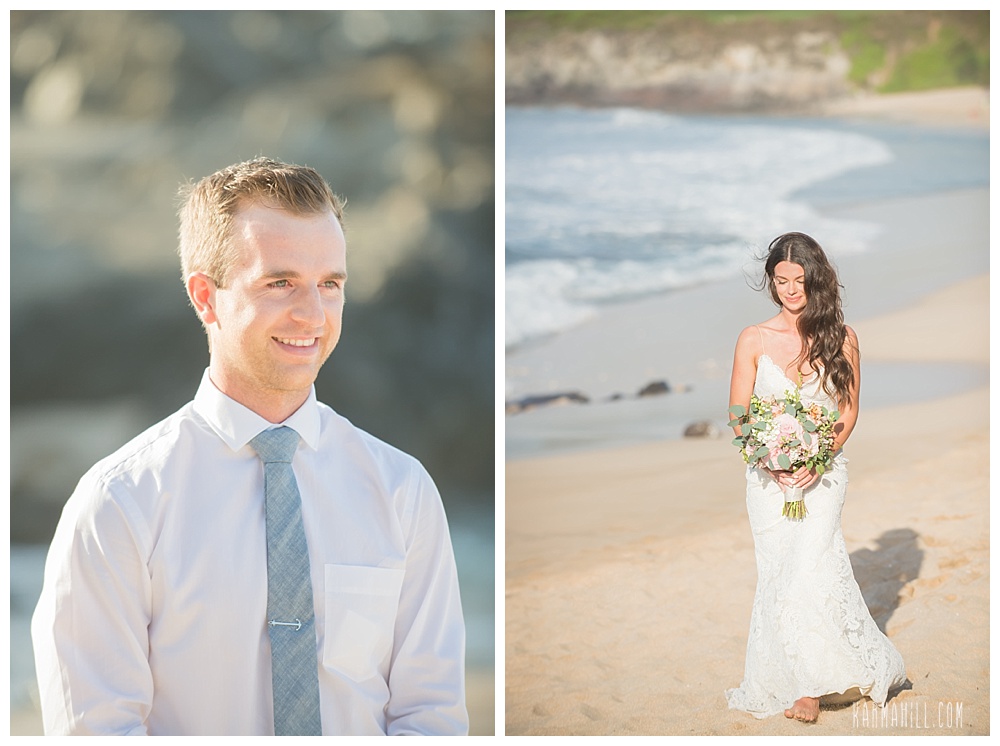 With beautiful white sand at their feet Casey got his first look at his stunning bride Amanda. Amanda's spectacular Boho chic custom bouquet was created by Dellables floral.
With heartfelt vows, minister Tino Rosette performed a beautiful ceremony with the warm trade winds blowing and waves crashing in the background.
The bride and groom performed the traditional Hawaiian ceremonial lei exchange during wedding vows.
After Reverend Rosette blesses the rings the bride and groom make their Maui elopement official sealing with the exchanging of wedding rings.
Amanda and Casey make their marriage official with a kiss as Reverend Rosette closes the ceremony with a blow of the conch shell.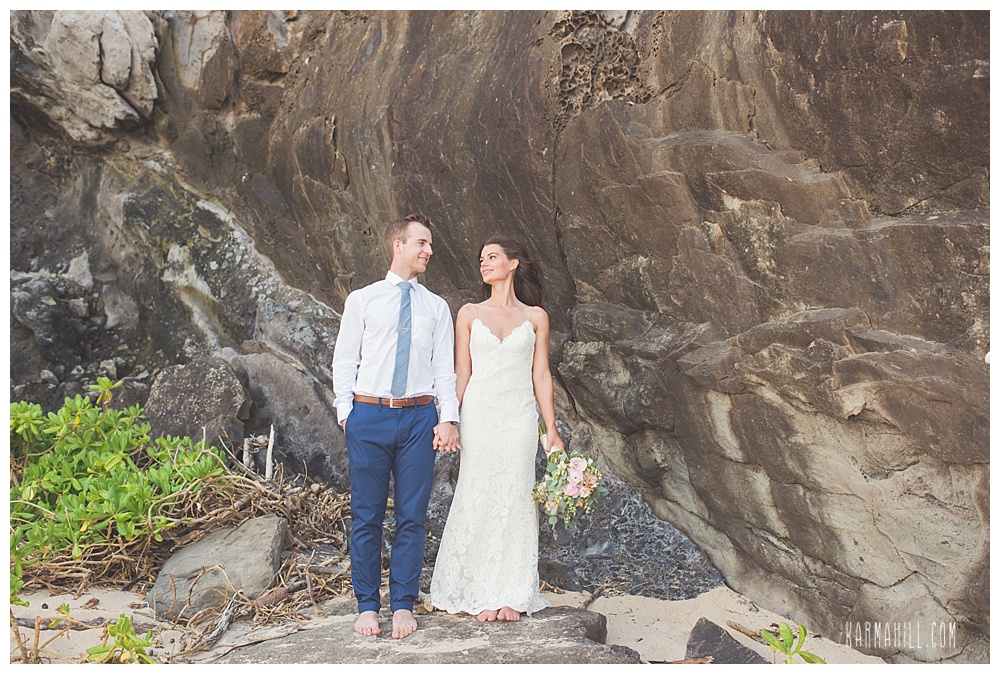 After the ceremony the newlyweds started photos at the base of the bluffs of Ironwoods beach. This beautiful organic texture made for a gorgeous background for photos.
Casey and Amanda were so cute as being married finally began to sink in. There were so many smiles and a fun playful atmosphere of love in the air.
Amanda and Casey were just the perfect couple to elope in Hawaii. They just seemed ready for something fun and exciting and the next chapter in their lives.
Amanda made the perfect addition to the island looking stunning in her low back wedding dress and gorgeous boho designed bouquet.
This couple was the pinnacle of wedding glamor whether they realized it or not. After seeing all of these breathtaking photos I really couldn't think of any reason everyone wouldn't want to have a Maui elopement.
Wish the sun setting in the distance this fun couple enjoyed the beauty of on of the most perfect weddings in Maui.  We wish Amanda and Casey the happiest of ever afters on their long life together!
Make sure to book a quality coordinator for those needing help on how to get married in Hawaii.