Maui is consistently ranked one of the top places in the world for honeymoons and destination weddings.
And is it any wonder? Between the balmy weather, sapphire waters, and sultry fauna, the island often leaves visitors speechless. Use this Maui itinerary to assist with your plans for the rest of the trip. Last updated on July 31, 2023.
Plus, with offerings that range from the rugged and wild to the glitzy and refined, the Valley Isle is sure to please your partner—or everyone in your wedding party.
But deciding how to spend your precious time on Maui can be dizzying without proper planning. With that in mind, we've assembled the ultimate 6-day Maui itinerary, with each day dedicated to one of the island's exceptional spots. This means you can devote less time to driving and more time to lazing in the sun, relishing an island adventure—or basking in your lover's arms.
Day 1: Kaʻanapali
Much of Maui's allure is due to its golden shores. While there are over 120 miles of coastline from which to choose, there are few better places to soak up the island's sun-splashed splendor than on the West Side.
Start off your day with a stop for java at The Coffee Store in Napili. This buzzy café roasts small, artisan batches of Hawaiian beans to create the perfect cup. With an extensive array of baked goods—from lemon bars to coconut biscotti—and a chic, hang-ten vibe, this little gem sates as much as it invigorates.
While Kaʻanapali has a wetter sub-clime than its neighboring Lahaina, it also boasts an average of 278 sunny days per year—rendering beach time total bliss on one of its whitewashed shores.
Sunbathers and snorkelers frequently flock to the world-famous Kaʻanapali Beach—a three-mile stretch of pristine sand and crystal waters that are regularly voted "America's Best Beach." Join the legions by throwing down a towel in the center of it all, or skirt the crowds and head to the cove just north of Puʻu Kekaʻa. Here, you'll have more space to relax—and quieter to enjoy the sounds of nature. Don't forget to grab a snorkel mask: the marine life here is pure magic.
*Check the Maui Snorkel Report before you snorkel anywhere on the island. See current conditions and recommendations on various snorkel spots around Maui.
Post-swim, amble straight from the shore to Leilani's on the Beach, a lovely, open-air restaurant with a breezy ambiance, a sand-bottomed floor, and up-close views of the luminous water. Go for an ultra-refreshing ahi poke bowl with kukui nut and local ogo, or talk your sweetheart into sharing a plate of Niihau lamb sliders (complete with beer mustard aioli and tomato-ginger jam).
Once you've had your fill, knock souvenir shopping off your list by hitting up one of the many stores that comprise Whalers Village or grab some swag for yourself at places such as Cariloha Bamboo and Blue Ginger. Then, ascend to the top level for a brief tour of the plaza's fascinating Hawaii Wildlife Discovery Center (9 am to 3 pm daily), where 19th-century scrimshaw is on display next to one of the world's largest whaling ship models.
Get further into the groove of your tropical holiday by booking reservations at the Maui Nui Luau at Black Rock. The ancient songs and dances of the Pacific are brought to the stage as the sun sets on the horizon, and torches are lit as a cliff dive opens the vibrant celebration.
Apres-luau festivities ought to start at the Hula Grill's Barefoot Bar, where you can kick back under the starry sky with a lilikoi mojito, mango-rita, or a 29-degree blizzard draft beer. Take a moonlit stroll down the boardwalk to breathe in more of Maui's beauty—or, if you're with your crew, bounce into Monkeypod Kitchen for one of the best Mai Tais in Hawaii or a slice of strawberry pie.
Day 2: Kihei
It's one thing to arrive home with a tan. It's yet another to arrive home with a tan earned while learning how to surf.
Accomplish the latter with an early-morning course conducted by the ladies and gents over at Waves Hawaii Surf Lessons. The friendly folks at this much-lauded outfit will take you to uncrowded, sun-filled breaks to learn everything from a duck dive to a full-on ride. With lullaby waves and views of the outlying islands, this is the way to get comfy on a board and in the water.
Watersports prod a serious appetite. Indulge yours at Havens Maui, where delicious smash burgers are paired with mouthwatering noodles and sushi. Bonus tip: Try the crazy tots.  Just trust us and order them.  UNREAL!
Discover Maui's wildlife with an afternoon walk in North Kihei. Here, the gilded shores give way to Kealia Pond, a 691-acre national wildlife refuge and coastal salt marsh that's home to the Hawaiian coot, migratory ducks, waterfowl, shorebirds, and the endangered Hawaiian stilt (ae'o).
Watch the sunset from this quiet perch before heading to the center of town, where you can grab a super-delish dinner at Ekolu Kitchen 1279—a great new spot in Kihei serving locally inspired dishes and top-level cocktails. Dive into a Ratatouille flatbread or the Hunter Style Beef Stew before making your way across the plaza to Island Art Party. This energetic venue features amicable artists who'll teach you and your partner or pals how to paint an island portrait. The music is joyful, the mood is great fun, and the takeaway—your own painting—is worth saving.
Still, rarin' to go? Uber it to the Triangle, where a cluster of bars that range from lively to divine is tucked into a square mere yards from the Pacific. The Dog & Duck offers Irish flair, What Ales You serves up killer craft beers, and Vibe Bar Maui has the hottest dance floor on Maui. Singing more your thing? Head nowhere else than Haui's Life's a Beach, where a-rockin' karaoke fest is offered most nights of the week.
Day 3: Central Maui
The slender, central isthmus of the island offers up an entirely new side of Maui. As the county seat and the former site of Maui's most epic battles, this region has a touch of the city, a touch of country—and a whole lot of spirit.
Nestle into a chair at Fuego Argentinean Steakhouse for a fresh cup of coffee, a loco moco or tropical pancakes, and views of Pu'u Kukui before heading into the heart of Central Maui for an unforgettable helicopter ride. Maui helicopter tours combine state-of-the-art equipment with a skillful staff to take you and your loved one (or ones) deep into the island's most dramatic and elusive spots. Tours range from hovering over Haleakala to dipping into Hana to whirring above the sea cliffs of Molokai; base yours on what intrigues you most (or go for a grand tour that blends all three).
Back on land, grab a picnic lunch (Minit Stop has quick eats like SPAM musubi and manapua, while Down to Earth features an excellent salad bar), and make your way to Waiheʻe—a lush, mystical area that once housed the largest kalo plantation on the island. Trek into the clouds—literally—on the Waiheʻe Ridge Trail, a moderate, uphill hike that supplies impressive, panoramic views of the island. At the top of the trail, you'll find a clearing and picnic tables; pause for a spell and dig into your spread.
If the ocean is calling for you, make the most of what's left of the day by venturing over to Kanaha Beach Park—a tranquil stretch of sand that rests between Spreckelsville and Kahului Bay. Wind and kite surfers often take to these parts, providing you with stellar views of the Pacific and two of Hawaii's favorite past times.
When hunger strikes, proceed to the Maui Tropical Plantation, a leading destination that features Cafe OʻLei At The Mill House. Start off with expertly-crafted swill at their enchanting bar, where historical displays from the sugarcane era recall the Valley Isle's dynamic past. Then, revel in a delicious meal. Menus are different from what you'd get at the other Cafe O'Leis, but still on par with what they're known for.
Determined to keep going? Check out the listings for the Historic Iao Theater nearby or the concerts and festivals at Maui Arts and Cultural Center. Both venues are bound to give you a fresh taste of Maui's magnetism.
Day 4: Hana
Get lost in Hana's big, booming beauty with an all-day trip that'll leave you the best kind of breathless.
Begin with a stop at Paia Bay Coffee Co. for an espresso macchiato and smoked salmon bagel before launching your journey—a 52-mile serpentine drive that will take you and your partner over 600 twists, 59 bridges, and more exquisite sights than you can count.
Among them? Rainforests teeming with endemic and introduced species (such as ʻohia, koa, painted eucalyptus, birds, and lizards) and waterfalls roaring down precipitous drops. Frequent stops are part of driving the Road to Hana, but be sure to meander off the main road to check out Keʻanae Peninsula—a gorgeous fishermen's village renowned for its fertility—and Waiʻanapanapa State Park. The latter boasts a black sand beach, freshwater grottos, blowholes, lava tubes, and tide pools that run red throughout the year.
In Hana town itself, you can refuel—both your rental and yourself. Hana Ranch Store features everything from hot dogs to sandwiches, while Hasegawa's—a destination in itself—offers all the trimmings for a laidback lunch on the coast (think: cold beer, fresh poke, deli meats, chips, and salsa). Take your provisions down to Hamoa Beach, a horseshoe of salt-and-pepper sand shaded by ultra-green trees and, on the clearest of days, views of the Big Island. Bathe in the vistas of its ruby-tinged cinder cone: Mark Twain and James Michener called this cove their favorite beach in Hawaii.
Post-grinds, prepare for more adventures by heading into Kipahulu—the rustic eastern end of Haleakala National Park and home to the famed Oheʻo Gulch. Otherwise known as Seven Sacred Pools, this stunning space displays a series of towering waterfalls that tumble into the Pacific. While the pools are currently closed due to rockslides and safety concerns, the nearby hiking trails remain open. One that's not to be missed? Pipiwai Trail—a four-mile trek through blades of whistling bamboo that supplies soaring views of the ocean, cliffs, and waterfalls.
Before gearing up for the drive back to your digs, pause for a spell at Charles Lindbergh's grave at Palapala Ho'omau Church, where the vistas of Hana's weathered, radical coast are sure to evoke awe.
Day 5: Wailea & Makena
Once more commonly known as the moku (district) Honua'ula—a district noted for its fishing prospects and dry-forest ecosystem—the resort and golf communities of Wailea and Makena exhibit several of the most picturesque beaches on the island. Experience the region's brilliance with an early morning stand-up paddling and snorkeling trip at Turtle Town—a radiant stretch of the Pacific abounding with Hawaiian Sea Green Turtles and several varieties of reef fish.
After your ocean excursion, cruise south to Big Beach (Makena Beach)—one of the largest expanses of white sand in all of Hawaii. Here, kiawe trees give the unspoiled area a robust flair, while the outlying atoll of Molokini seems close enough to touch. You can find the Jawz Fish Tacos food truck in addition to a few other specialty carts in this area should hunger strike.
To fully appreciate this side's grandeur, brave the bumps and potholes of Makena Road to witness Keone'o'io Bay. Regularly referred to as La Perouse, this rocky province is the result of Haleakala's most recent eruption, which is evidenced in miles of alienesque lava formations and tide pools brimming with unusual species. Intrepid swimmers can paddle out for the chance to swim near dolphins while the red-tinged edges of Kaho'olawe dazzle in the distance.
As evening approaches, make your way into Wailea for a self-directed progressive dinner. Start with fruit-infused cocktails at Gannon's Red Bar before walking through the verdant landscaping at the Fairmont Kea Lani; here, fresh oysters, crab cakes, and black and blue ahi beckon at Nick's Fishmarket. A welcoming boardwalk, mere steps from the inimitable restaurant, will take you and your loved one or entourage deeper into the palatial resort complex—all the while affording you views of lanky palms and the vast spread of indigo water. Book a sunset couples' massage at your hotel or condo with Maui's Best Massage, then spend the rest of the day meandering through The Shops at Wailea.
On the upper floor of the shops at Wailea, enjoy a bowl of pork adobo moco—served with Hawaiian chili pepper, fried eggs, and rice—at The Pint & Cork before climbing Wailea Alanui Road to hear live music (and dine on strawberry pie) at Merriman's Monkeypod Kitchen.
Day 6: Upcountry & North Shore
Rise hours before the birds and ascend to Maui's highest point—the summit of Haleakala, which looms above the Valley Isle at 10,023 feet and comprises three-quarters of the whole island.
Sunrise is popular with visitors—if visiting between 3 am and 7 am, advanced reservations are required at www.recreation.gov and often can only be made weeks in advance—but the preparation is well-worth the spectacle.
Guided Haleakala Sunrise Tours are an excellent option for those hesitant to drive themselves or who want to learn more about the local culture and history of the area during the narrated, early morning journey to the summit. You'll be given jackets and gloves for warmth and treated to a stunning sunrise experience – don't forget your camera!
Here, the sun striates the sky in bands of otherworldly colors while clear mornings deliver views of the Big Island. Stay for a while to acquaint yourself with the park's singular creatures—the nene goose and silversword plant chief among them—before winding down the mountain for crepes and coffee at La Provence in Kula or fresh baked goods and delightful eggs benedict at Kula Bistro.
Post-breakfast, aim to see the island from a different perspective by booking a paragliding excursion out of Polipoli. 3,000-foot tandem descents are offered to valiant travelers; those daunted by heights will find beauty and solace within Polipoli Spring State Recreation Area, which features a conifer forest and sweeping ocean views.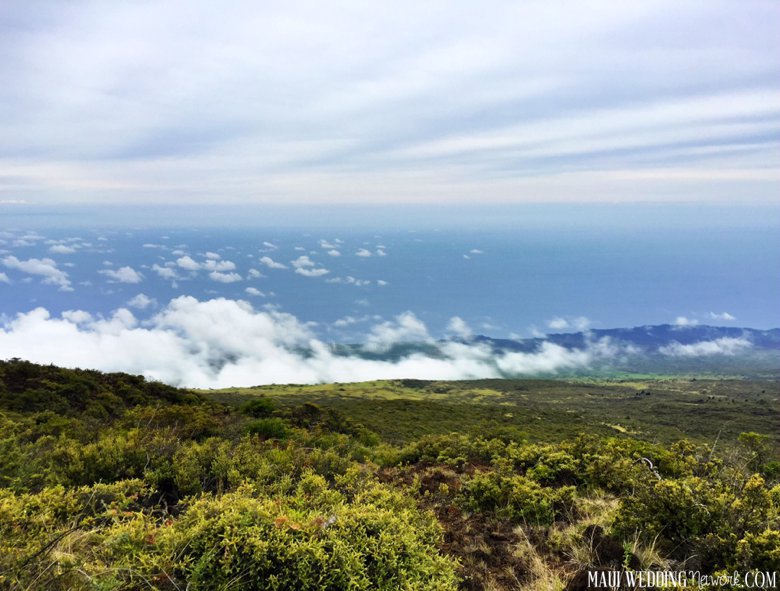 After such a busy morning, catch your breath with a self or guided tour of Hui Noʻeau. This visual arts center is located on the jungly slopes of Makawao and presents a gallery shop brimming with prints, jewelry, ceramics, and blown glass—all created by over 75 local artists.
Keep that artsy mood going by exploring the galleries and boutiques in Makawao Town, where you can check out local artists painting, glass blowing, or constructing their art. Or score a pair of earrings at the uber-glossy The Mercantile.
Once you've had enough of gallery and boutique hopping in Makawao town, make the 10-minute drive makai (toward the ocean) to Makawao's sister city, Haiku. This small town is full of eclectic surprises: trendy bars, raw vegan cafes, esteemed sushi restaurants, zero-waste shops, and hippie temples. If one storefront is worthy of your attention, it is Ace of Cups in the Aloha Aina Center.
Ace of Cups leans into Haiku's supernatural energy, offering tarot, oracle, and astrological readings weekly – if you dare peer into your feature. If you're keener on souvenir shopping, Ace of Cups features a plethora of tarot decks for sale (including some ultra-rare decks that are no longer in production), as well as other occult souvenirs like pendulums, mala beads, crystals, and dream journals.
Your final evening meal on the island calls for something memorable. Find that in spades at Restaurant Marlow (5-10 minutes from the heart of Makawao). Woodfired sourdough pizzas and locally-sourced meats and vegetables have made this new restaurant an immediate hit.  It helps that its owner/operator is Chef Jeff Scheer of Maui Chef Table fame.  He has a knack for finding the highest quality local ingredients and elevating them. Then pop next door to Mahalo Aleworks for a Maui-brewed beer or 2. Arrive in time for sunset and sit on the balcony for an epic view of the island and see if you can point out all of the places you have been.
Planning your dream honeymoon on Maui? What's on your agenda?
Many of the photos used in this post were taken by the talented wedding photographer Natalie Brown.